"The Finest Cuisine at Sea"

Boldly claiming to serve "The Finest Cuisine at Sea™" might seem to be a hyperbole, but we wouldn't make such an immodest assertion if not for the tremendous contribution of the legendary Master Chef Jacques Pépin. As our Executive Culinary Director, he inspires our chefs to perform feats of gastronomic wizardry. The intimate and luxurious ships afford their chefs the luxury of cooking for fewer guests. Never having to rush or create dishes en masse liberates them to meticulously prepare your individual order, exactly as you wish and just as you would expect in the finest restaurants, using only the freshest, highest quality ingredients. In harmony with its philosophy of encouraging a healthy, balanced lifestyle, Canyon Ranch® also offers its delicious and wholesome gourmet cuisine onboard our ships. Memorable dining begins with open-seating, as it allows you to dine when you are ready and with whomever you choose. Regardless of where you dine, there are never surcharges.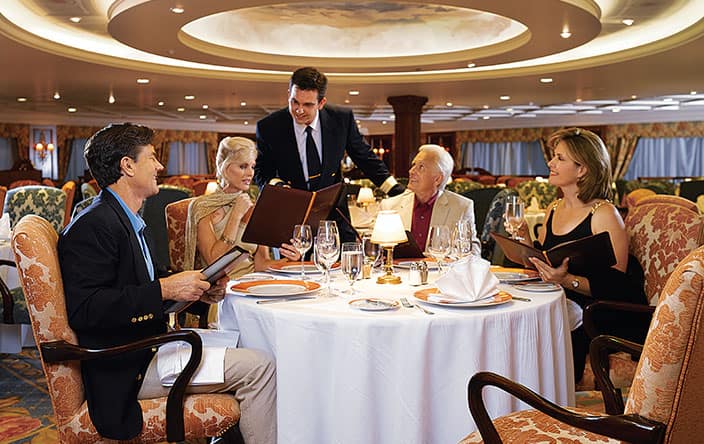 The Grand Dining Room
The Grand Dining Room is a study in stateliness, a tribute to the spirit of Europe's marquee restaurants in 5-star hotels that inspired its dignified yet convivial ambiance. Handsomely decorated in rich woods, classic fabrics and soothing colors, the expansive dining area exudes splendor. Tables are beautifully set with elegant bone china, sparkling Riedel crystal, gleaming silver, and fine cotton linens. Remarkably, as sumptuous as the Grand Dining Room's décor is, guests always feel completely at ease within its grandeur. Much of that is a direct reflection of the formally attired and classically trained wait staff, graciously serving course after course of European-inspired cuisine or delectable alternatives such as healthy, savory Canyon Ranch® selections or Jacques Pépin's signature dishes.
Polo Grill
Polo Grill embodies all the elements of a classic steakhouse, expressing them with timeless reverence. Mindful of tradition, the décor features crisp, white linen tablecloths, dark wood furnishings and supple, burgundy leather chairs. Each course stands as the very definition of a time-honored favorite, most notably the beef dishes, all of which are USDA Prime and dry-aged for 28 days to enhance tenderness and flavor. Succulent seafood dishes, such as whole Maine lobster, are also classics in their own right. Caesar salads are prepared according to tradition as well, tableside and with gusto.
Toscana
In Italian, Toscana means Tuscan, and every aspect of this magnificent restaurant pays homage to this beloved region of Italy. Just as Tuscan cuisine evolved from rich family traditions, many of our recipes originated with the grandmothers and mothers of our own Italian culinary staff. Similarly, the sommeliers are from long lines of wine-producing families, so they inherently know the characteristics of each vintage, which ensures that their recommendations perfectly complement the simple yet keenly balanced Tuscan cuisine. Presented on elegant, custom-designed Versace china, each dish is a masterpiece that exemplifies the essence of Tuscany and celebrates Italy's culinary passion.
Jacques
Exquisitely decorated with heirloom antiques, pickled wood furnishings and art from Jacques Pépin's personal collection, Jacques was modeled after a Parisian bistro. Comfortable and eclectic, the ambiance is pure French, as is the cosmopolitan yet wonderfully embraceable cuisine. Luscious aromas waft from the gleaming show rotisserie, where chicken, duck, pork and veal roasts slowly turn. Each dish is a classic, ingeniously reinterpreted by Master Chef Pépin. Absolutely magnifique, Jacques is featured aboard Marina and Riviera.
Jacques Bistro
The Grand Dining Room offers a surprise transformation into an authentic French bistro each afternoon during lunchtime. Inspired by the family recipes of our Executive Culinary Director, Jacques Pépin, Jacques Bistro offers classic dishes that capture the essence of French cuisine. The menu reflects the rich range of flavors from regions throughout France with an emphasis on seasonal dishes such as Herb-Crusted Free-Range Chicken with Pumpkin Gratin, Five-Peppercorn Flap Sirloin Steak with Brandy Demi-Glace and Lemon Sole Fillet with Caper Butter & Crispy Croutons. Bon appétit!
Tuscan Steak
Tuscan Steak, our all-new specialty restaurant, exudes the warmth and Italian flair of Toscana while preserving the classic appeal of Polo Grill. Featuring glossy wood paneling with platinum and silver accents, the elegantly appointed interior of Tuscan Steak aptly reflects its modern take on the traditional steakhouse. The innovative and diverse menu features the best of both worlds, so you can savor Filet Mignon and our Signature Bistecca alla Fiorentina cooked to perfection, along with rustic Italian favorites such as Hand-Rolled Potato Gnocchi. Seafood lovers will delight in succulent dishes such as Maine Lobster alla Gratinata and Linguine Cioppino.
Red Ginger
With a nod to feng shui, Red Ginger radiates harmony and tranquility aboard Marina, Riviera and Sirena. The interior simply glows with ebony woods, hand-blown glass light fixtures and striking, modern Asian artworks. To complement the stunning décor, Red Ginger's chefs have created contemporary interpretations of Asian classics. From the miso-glazed sea bass to the lobster pad Thai, Red Ginger's gustatory pleasures are as striking as the visual ones.
Terrace Cafe
Informal and carefree, Terrace Café is wonderfully inviting whether you dine indoors or alfresco. First thing in the morning, the entire space is infused with natural sunlight, stimulating the appetite for the sumptuous breakfast selections. Come lunch, the expansive menu of international dishes changes entirely, beautifully complemented by flavorful roasted meats and the magic of the pizzeria's oven. In the evenings, the cuisine takes on a local flair, such as a hearty paella in Spain or a rich beef bourguignon in France. The following day, an entirely different series of menus will delight you.
24-Hour Room Service
After a day of enriching shore excursions or relaxing activities onboard, you may wish to dine in the privacy of your suite or stateroom. An extensive room service menu is available 24 hours a day. Owner's, Vista, Oceania and Penthouse Suites also feature Butler service, allowing guests to enjoy course-by-course, in-suite dining with cuisine selections from the onboard restaurants.